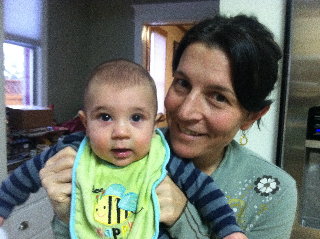 Visitors=moi in photos....Thanks Anglia! Awesome Dman shirt courtesy of Coach K and Landry (Those are our fave shirts these days!!

It was nothing short of a christmas miracle as I was able to ride TWO DAYS IN A ROW recently. It had been gnarly air but I was able to shoot the gap on Sunday morning as the funknastiness cleared out just as the storm was starting to roll in. Never mind that I totally ruined the nice clean bike Tom Jow had dropped off at my house the night before. Never mind that I was supposed to ride 3 hours and I only made it 2
(little voice inside saying "you can never win!! you can never win!!!
)...
Yesterday it dumped more snow but the roads improved enough for me to do the main set of intervals for yesterday's workout. Dicey roads plus cars (because I had to ride on the roads that cars had driven) equals "that's not just road grit on my shorts." I think I was the coldest I'd ever been on my bike. My hands felt like they were going to shatter into a million pieces once they started to warm up again. I was out for an hour (on what was supposed to be a 2 hour ride: enter the little voice again).
Thank you god and baby jesus it was great to get outside.
I continue to totally flail on all aspects of life. But the Dman is getting *so* close to crawling and that is the opposite of flailing I.M.H.O.

Who can disagree with the need for coffee before undertaking crawl training?

We have to haybale certain race course hazards (corners of the changing table) as the Dman can get pretty wild and unpredictable in his movements